3 Red Flags to Look out for in CRO Job Descriptions
Posted on December 28, 2020
The role of Chief Revenue Officer remains a conundrum in today's B2B world. CROs are inherently disruptive hires that bring a permeating impact on vital business functions. As such, getting this hire wrong is as malignant as getting it right is fortuitous.  
The core misperception among CEOs is that CROs are Sales Leaders. 
90% of CROs today are hired – mistakenly – as de facto Heads of Sales. This misperception has profound and hidden, negative implications for B2B companies. Unfortunately, it's all too common. 
2020 was by no stretch an extremely unusual year that brought about some unique opportunities for B2B companies looking to add to their C suite. Given the new 'open market' resulting from at-home work requirements, the CRO candidate pool became much wider. Which in a way exacerbated this mis-hiring issue. More senior-level sales leader talent available in the market has resulted in even less scrutiny on the role itself.  
So, it makes sense that when hiring a CRO, critical attention needs to be placed on understanding the impact and purpose of the role before posting a job opening to find candidates. 
An analysis of last years' most prominent job postings for Chief Revenue Officers reveals the extent of this misperception. 
The inquiry revealed 3 Key Red Flags that show how B2B companies are missing the mark in their CRO appointment. 
1. The Ambiguous Role Description 
I see this often, as the screengrab below illustrates. Companies actually post listings for 'SVP or EVP Sales / CRO' in the main descriptive title. This title equivocation displays a lack of certainty as to what the role is. It also indicates that the company may be signaling to new hires that the CRO title is up for grabs – to appeal to 'title-cravers'. This sort of ambiguity indicates a perception of the CRO role as sales-focused – and frankly, in my opinion, this company should simply remove the CRO title from the description and just double-down on a sales leadership role as the target. 
2. An over-emphasis on Sales-related functions and responsibilities 
Companies who have invested time in detailing the actual job requirements tend to bury their true intentions and misperceptions in the descriptive language. As you can see in the below screengrab, this company almost exclusively requires its CRO to be focused on sales-oriented responsibilities. A frequent overuse of the word 'sales' in any CRO job description is a red flag, and if the use of the words 'sales', 'selling' or 'sales management' seem overly pervasive, I'd bet that this is really a call for a Sales Leader and not a true CRO. Or, its an indication that the hiring company really does not understand what a CRO really does and is in fact actually looking for someone to lead their sales efforts. 
These types of postings also include other sales-oriented buzzwords like, 'pipeline management', 'revenue growth', 'prospecting', 'acquisition', 'closing', 'client-development', 'customer-acquisition', 'sales function', 'business development', and the like. The description in the example below does make one reference to oversight of marketing, but that's it. No other supporting language would lead one to perceive this as anything but a sales management role -and that any marketing oversight will be superficial at best.  Most of the time, even when these type of job descriptions make veiled references to things like strategy, innovation, product, customer, etc, the predominance of sales related keywords indicate that the candidate is really going to be measured on sales and growth exclusively, which will become the focus of the role. This will inevitably require that the candidate ignore other aspects of the role in order to survive. This issue is a common symptom of companies that do not properly appoint and prepare for a CRO. 
3. No references or mentions of Alignment, Revenue Operations, or Inter-Functional oversight.  
As the CRO role is at its core a strategic alignment appointment, any good CRO job description should not only make  mention of this, but it should be implicitly clear via the use of the terms 'alignment', 'cross-function', 'integration', 'holistic', 'culture', etc. More direct, the description should also be extremely diligent in making sure that the job requirements include a track record of competence in those skills. The company should also be explicit in setting these expectations. This would remove all 'sales-only' focused candidates and better ensure that more diversely competent applicants apply. A CRO role job description should be focused on setting the right tone and message that qualified applicants must have ambitions for holistic leadership and oversight of the sales, marketing and account management (customer success) and be accomplished executives who understand how to manage and lead inter-functional teams and build revenue operations. Most do not. Below is an example of one that, in fact, does this very well.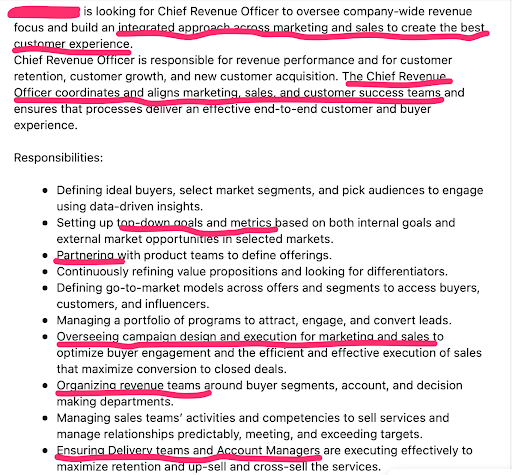 If you are a CEO currently considering the appointment of a CRO, and any of the red-flags referenced above resonate with you, a simple change of the job description language is not enough. 
I'd submit that if this is the case, it's highly likely that your perception and intended appointment of a CRO may be inaccurate – and that this will have a potentially grave impact on your projections and business plans for the next year.
To learn more about the CRO role and how to successfully appoint one, go to www.thecrocollective.com or contact us at info@thecrocollective.com.